Your Traffic Sign Printer Solution.
Create a new revenue source for your sign shop or bring all of your regulatory, guide, warning, and construction signage in-house with Roland DGA TrafficWorks™, the traffic sign printer solution from Roland DGA. Print and cut traffic signage on reflective media with a simple and cost-effective solution that offers all the tools and training you need to start making traffic signage a successful part of your business.

Customize Your TrafficWorks Kit To Suit Your Needs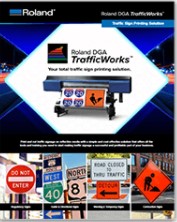 There's not just one TrafficWorks kit option. We have multiple kits at different price points. Find the street sign printer solution that's right for your existing equipment and production needs.
COMPLETE KIT

Get the Full Kit with a VG2 and Dryer Unit

If you don't currently own a TrueVIS VG2 series printer/cutter or a dryer unit, you can purchase a full kit to get you producing and profiting in traffic signage.

Pricing starts at $27,890 depending on what equipment chosen.
THE UPGRADE KIT

Already own a VG2? No problem!

If you already own a TrueVIS VG2 series printer/cutter with dryer unit, and 7-color + Or Ink, we have a solution kit for you.
Simplify Traffic Signage
with Easy Software
Roland DGA TrafficWorks design and RIP software (customized by SAi) was developed to make on-demand traffic sign production more straightforward and intuitive. It includes 3,200 compliant sign templates, a traffic-specific color library, fonts, and a selection of custom profiles.
Meet Regulations with TrafficWorks Sign Production
There are regulations and standards to ensure traffic signs are visible, durable and consistent. Roland DGA TrafficWorks produced signs meet all standard ASTM, MUTCD and FHWA compliant traffic colors and retro reflectivity.
---
Request a Call

Want more information? Please fill out this form to be contacted.