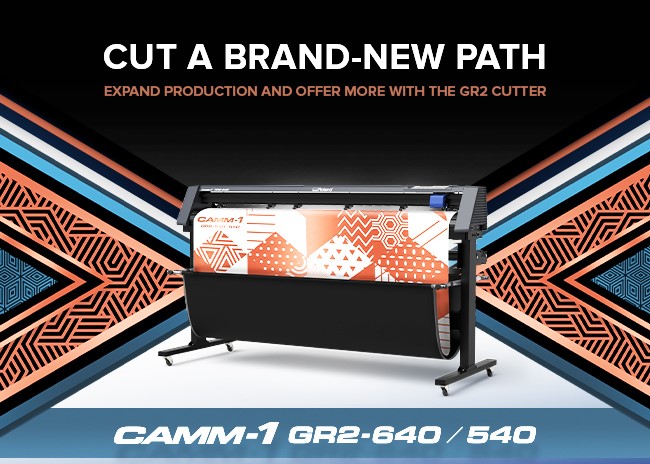 MODEL
MSRP
CAMM-1 GR2-640 Large Format Cutter:
(SB-64 Media Catch Basket Included)
$5,495 MSRP
CAMM-1 GR2-540 Large Format Cutter:
(SB-54 Media Catch Basket Included)
$4,495 MSRP
Introducing the new CAMM-1 GR2-640 and GR2-540 large-format cutters – next-generation devices uniquely engineered for greater downforce, improved cutting accuracy, and unsurpassed ease-of-use. Designed to work seamlessly with Roland DG's latest printers and VersaWorks 6 software, the new GR2 series cutters are the perfect choice for any large-format printer owner looking to maximize output quality, increase, productivity and expand the scope of his or her business to include print-then-cut applications. These highly efficient, versatile machines are built to serve the needs of demanding print professionals in a variety of industries. Their advanced features, precision, and reliability make the GR2 cutters unbeatable for a wide range of jobs, including vehicle graphics, signs, POP displays, labels and stickers, heat transfers, and more.
KEY FEATURES
Easy integration with the Roland DG TrueVIS VF2 and other Roland DG printers using VersaWorks 6.
AAS II Positioning — an intelligent sensor workflow that automatically crops-by-row and repositions for efficient print-then-cut production.
Cutting speeds up to 60.1 inches per second (1,530 mm/s) and a downforce of up to 600 gf allow users to cut thin films and thick vinyl with ultimate ease.
Downforce of up to 600 gf expands media capabilities to include high-luminosity reflective sheets, sandblast mask, and other specialty materials.
New GreatCut-R Software for setting up weed lines, saving job histories, and other dedicated cutting functions.
Minimize production errors with a combination of intuitive software features, advanced machine sensors, and crop-mark detection.
Exact cutting that features angle cutting with the overcut function for perfectly sharp corners when cutting thick material.

SPECIFICATIONS
BROCHURE
---
VersaWorks 6 Compatible
The GR2 series is compatible with Roland DG VersaWorks 6, allowing workflow from any supported Roland DG printer, like the TrueVIS VF2-640. The RIP process for print/cut data can be easily handled by VersaWorks using the Roland DG Quadralign Optical Registration System. A simple drag-and-drop workflow enables users to crop by entire area, each row, or even each image, for the most precise print-and-cut accuracy.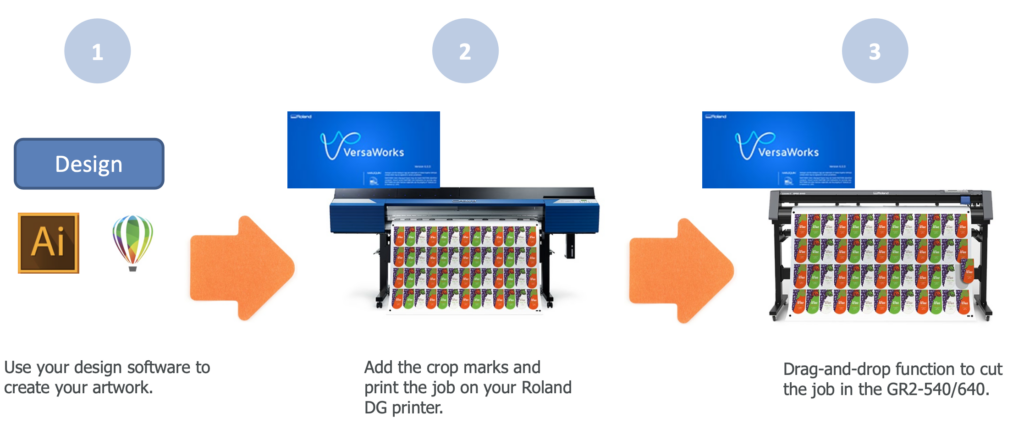 Roland DG AASII Positioning Function
Each GR2 series cutter features a standard Automatic-Aligning System (AAS II), which guarantees precise contour cutting by automatically detecting the crop marks on digitally produced images, including those from non-Roland DG devices, using the provided plug-in software. For end users unable to use VersaWorks, this provides an accurate print-then-cut solution.
The Roland DG Automatic-Aligning System (AAS II) offers several choices for crop mark placement to ensure optimal accuracy, regardless of the application being sent to cut. Four-point positioning allows users to group several jobs into one file. Segmental positioning maintains accuracy over long runs by reading crop marks at specific intervals and adjusting for any media skew, while the multiple copies feature makes it simple to add a specific number of copies in both the X and Y directions.
Roland DG AASII Positioning Function
Auto Rotation
The GR2 optical sensor will detect the AASII crop marks to distinguish the feeding direction of the media and rotate cutting content automatically. There is no need to distinguish between 0 and 180 degrees (upside down) when loading the material for cutting after printing has been completed. This is a great time-saving feature in a production-level workflow.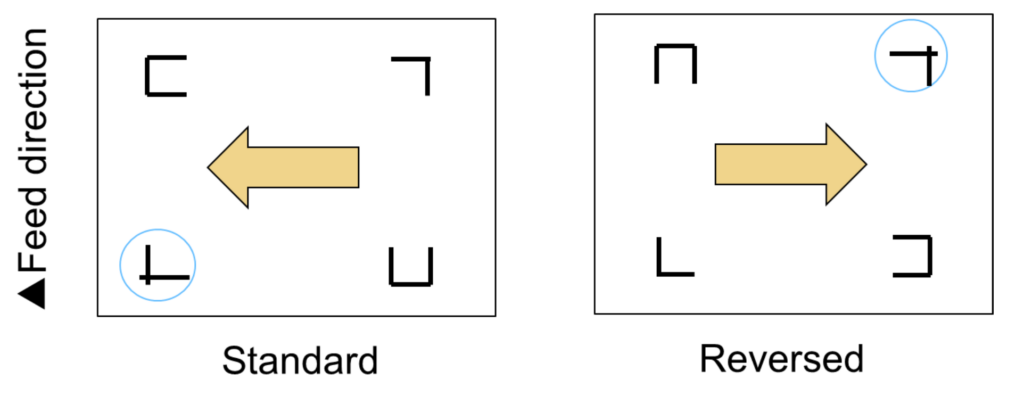 GreatCut-R
GR2 series cutters come bundled with GreatCut-R software, which includes a variety of dedicated cutting functions that support efficient, trouble-free operations, such as setting up weed lines, sorting options, and saving job histories. Similar to a production manager in the RIP world, these tools can help improve productivity by optimizing throughput and ensuring high quality.
Accessories
The GR2 series cutters incorporate durable, reliable CAMM-1 accessory hardware. The high-quality blades and holders are part of what makes the GR2 cutters accurate, dependable performers day-in and day-out. A wide variety of blades are available to accommodate most any application.