PDAA AND ARLON VEHICLE AND FLEET TRAINING AND CERTIFICATION
November 30, 2022 @ 8:00 am

-

December 2, 2022 @ 5:00 pm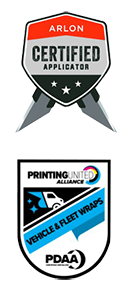 PDAA and Arlon Vehicle and Fleet Training and Certification1 is designed to train installers on the best practices for fleet and commercial vehicle wrapping. Our goal is to help you become a better problem solver and to give you strategies that will work across all critical fleet installation areas. The Training and Certification Program combines our technical knowledge of our products with global industry experience to create guidelines for best practices in commercial vehicle wrap techniques.
One Program. Two Certifications
The PDAA & Arlon have joined forces to offer a unique training and certification that will double your benefits. By successfully completing the program, you will be certified by Arlon, a globally recognized vinyl manufacturer, and by PDDA, an industry-leading trade association. The PDAA's mission is to unite printers and installers as one community by offering both groups a reliable, unbiased resource of trained and certified professionals while providing support and camaraderie for the installer community. Arlon's goal is to expand your knowledge base of Arlon films to increase your efficiencies across all critical areas in commercial vehicle wrap applications.
One training program will give you the opportunity to obtain two certifications with long-lasting benefits.
Multiply your skillset and develop your technical knowledge in a collaborative classroom session;
Proof of your expertise from a proficiency-based training and exam
Certification from an industry-leading trade association and a worldwide recognized brand;
Profile on Find An Applicator on both Arlon and PDAA2 directories
Certified Installers receive a official swag kit
About PDAA and Arlon Vehicle and Fleet Training and Certification
A 3-day in-depth program divided into seven hands-on stations and an exam to assess your knowledge and ability. Learn to perform advanced techniques and application and gain benefits that will put you ahead. The primary areas of focus are:
Learning how each component (liner, adhesive, film, overlaminate, and inks) of wrap film affects the application process
Troubleshooting common failure modes with wraps and their causes
Using the cut and drop method on inset cargo van windows
Wrapping around common door handles with a hidden seam
Registration and seamless tiling on standard rivet panels
Register and apply a multi-layer RTA cut vinyl graphic on corrugated rivet
Stretch isolation and full coverage on deep channels on inset cargo van windows
Arlon will supply you with a YelloTools tool kit valued at $450! All other tools and materials are provided to you during the training. Materials available in the training include, SLX+® and SLX Cast Wrap, IllumiNITE Wrap®, Fusion Wrap, DPF 45WF, and Series 2100 cut graphics.